Joined

Dec 29, 2009
Messages

25,847
I bought her in December for $250.00 As you can see I don't know how to set the date on my camera, and yes my VCR is Flashing 12:00!!!!
15' Lonestar "Flamingo"
Been following Archbuilder and Micks110 alot as well as OOPs and BOB VT. FANTASTIC stuff. I have a lot of woodworking experience and "Mr. Fixit" mentality. Have posted a few comments here and there as I felt I had knowledge to help out. Have done some fiberglass fabrication in the past. Owned a few boats in my past. But never tried to restore one. At 60 yrs old been a little apprehensive about getting in over my head but what the heck, I decided to do it anyway. I KNOW you guys will pitch in WHEN I need it and I KNOW I WILL need it. This forum and you guys have inspired me to make the attempt. Been waiting for the weather to get warmer and it has, Soooooooooooo here goes.
40 HP Evinrude LARK (Came with 3 Solid Brass Props)
Selectric Pushbutton Shift. (Tested and Works Perfect)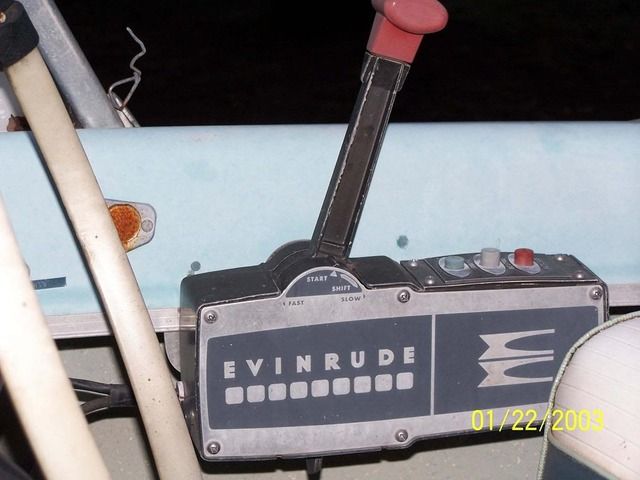 Keel is very rough due to "Beaching" (Not a very good attempt at patching by the PO. I can fix that!!)
Boat is complete with all working guages and minimal pitting on the chrome. (The Old Depth finder has GOT TO GO! The CB Radio Too!!!!)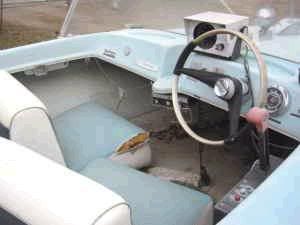 Windshield is relatively clear and a good buffing should bring her back to near perfect.
Seats are pretty much shot! Frames are good so upholstery shop should be able to bring em back to life. Cost estimate for both is about $400.00
Floor has NO soft spots. Random drilling on transom yielded "Dry Wood" at all points. Boat was always stored inside, Never had carpet. Nothing to hold water on the deck sooooo.... I think I have a winner. Not sure this "Old Man" could do all that Micks110 did to his 62' Traveler with the complete tear out and replacement of stringers and transom. Great Job Micks. You too Arch!!
Will strip all the "Jewelry" of of her this weekend, clean out the inside, give her a bath and start filling and wet sanding in preparation for primer and paint.
More pics to follow on PhotoBucket. Hope you guys will stick with me as I struggle along.
Last edited: