Hey!
This is my first post, I've been lurking and reading through many of the great rebuild-threads during the last month. Now that my own project is finally becoming reality, I've got some more specific questions I'm hoping someone could shed some light on.
I'm a 29 year old cinematographer from Helsinki, Finland. I've spent all of my life in close proximity to water, and most of my free time is somehow linked to our alarmingly polluted sea (you can read more about it at
http://www.puhdasitameri.fi/en
). I spend my free time fishing, diving or traveling around the local archipelago meeting friends and relatives.
I've been having dreams about a boat of my own for ages, but now I've finally done something about it. I wanted a boat that could combine all the aforementioned activities with longer trips around the local archipelago.
This is what I came up with as the ideal boat: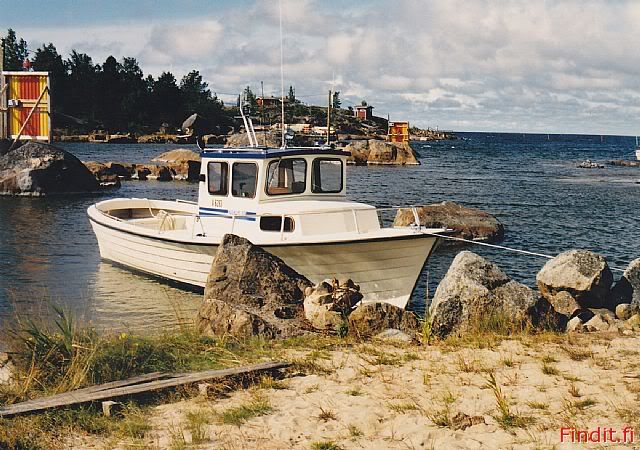 It's a local built fishing/work boat from the late 70's and early 80's. It's all GRP and built like a tank, a semi displacement single skin hull with an inboard shaft drive with diesel engines around 40-100hp. The model with the front pilothouse is still today sold for approx 20.000€, they're quite rare and people seem to hold on to them.
This brings me to what I recently bought: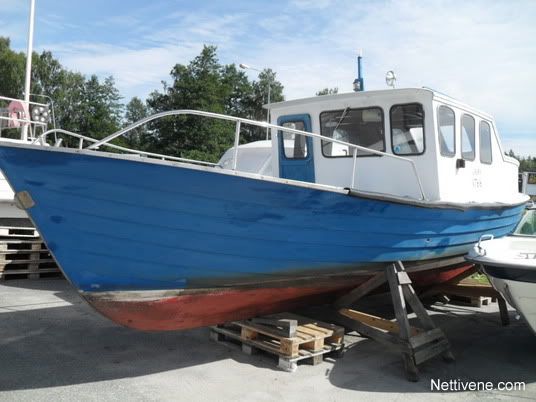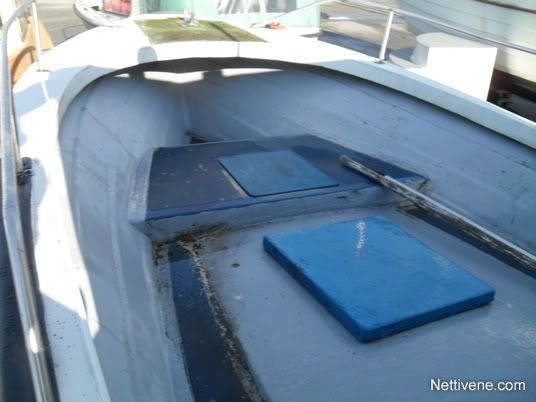 It's the same hull with a cabin the last owner built himself. The hull and stringers are in great shape under all the dirt and crap. The old pilothouse is in ok shape but far too big, ugly and top-heavy. The engine is an old BMW D50 with raw water cooling (the Baltic sea has a really low salt percentage). It's been going for only 150 hours this far, even though it's quite old.
So, my project will be all about converting the boat I bought into our own version of the boat I posted before.
I've got a rough project outline planned out:
1. Spring 2013 - Boat is being transported to my dads summer cottage (tools galore, electricity and space to work in)
2. Removal of old paint and sanding of the hull. Building of a tent over the boat.
3. Repaint / Gelcoating and fixing the steel "plank" that's attached to the keel.
4. Demolishing of the old pilothouse. Salvaging everything I can. Vacuum bagging the engine & other mechanical parts hurt by dust.
5. Removal of old deck and sanding/cleaning the hull, stringers and lip. Detaching the rails.
6. Building new deck and pilothouse out of Okoume ply. Glassing it all in and topcoating everything.
7. Interior work
I've been reading everything I can about glassing and boatbuilding since a few months back. Many of the threads here have been tremendously helpful. But some things are still unclear.
1. If the gelcoat underneath all that old paint is in ok shape, should I just sand it down to the old gel and repaint it with some epoxy paint? Should I completely remove the old paint or is it enough to rough it up? (the blue part, the red antifouling is going anyway to be redone with something similar) If the gel is good, then is there any reason to re-gel it? And would it be done on top of the old gel or will I have to remove all of the old one?
2. What would you do to the stainless steel keelguard that runs along the whole hull? My thought is just to buff it and clean it thoroughly? There's one spot where one bolt has cracked and the guard is bulging off the keel with the old bolt hole exposed. Is there anything I can do about that without removing the whole thing? It's really sturdy and the insides are bone dry, so I don't think it leaks.
3. Would you recommend the Okoume to be used for the deck parts that will be under strain? What thickness would be good for the pilot house walls and the deck?(my thoughts this far are around 7-8mm for the walls and 10mm for the deck)
4. What sort of system would you use to join the deck to the stringers and the pilothouse to the deck and hull? Glue? Screws? Epoxy or poly PB?
I will post more questions and photos and thoughts as I go along. It's all theoretical at this point since I'm going to start working on the boat in april, but I'll be buying supplies during the winter and putting up a detailed plan of the project before that.
I'm really thankful for any help, I'm so excited about the boat that I can barely sleep. Huge thanks to Oops and Ondavr and others who gave me the confidence to buy the boat and start this project!
Best,
Mikael