Well everybody I'm joining the family, Back in mid-August we bought our first boat. I had been looking for a little while and actually stumbled onto this site while looking at info for evaluating a used boat. We looked at a few that were just terrible, I'm not afraid of a little work but the photos sure did these boats too much justice. I had almost given up for the year when one popped up that had been for sale for quite some time. Reading the add I could see why, it read like a scam. Claimed to be a 19ft boat with a picture of 174 badge. Gave it a call anyway, super nice guy straight forward with me. Told me it had been re-decked and had paperwork on other work that had been done to it. It wasn't perfect but thought it was decent deal. 1995 Larson 174 SEI, 3.0 Mercruiser AlphaOne. Paid $2800. With a little elbow grease the seats and lite oxidation were cleaned up: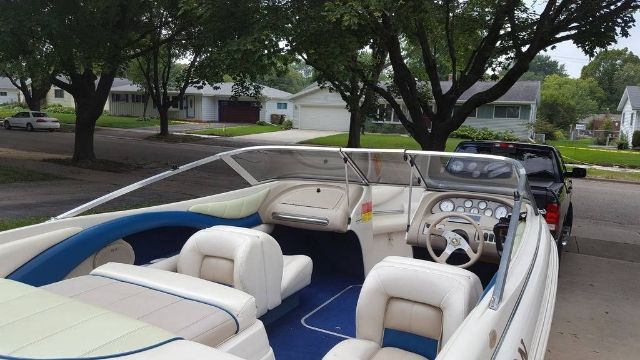 That weekend we had record rains here in Wisconsin and all the lakes around me were put on no wake restrictions. Another week goes buy and we can finally go a little more south and take here out for the first time. Ran great, didn't seem to have the top end I thought it should but didn't play to much with trim and the prop looked pretty new so I figured he put some cheap prop that wasn't right for the boat.
All was good, brought it home and we got some more rain. This is when I noticed something wasn't right. The ski locker would never dry or drain. So I grabbed a small stick to fish through the tank and see if it was plugged. I hit a spongy hard surface. Luckily the is a access panel to the gas tank, removed the panel and found what I had feared. The guy had re-decked the boat but didn't fix any of the stringers, he then lined the gas tank area with a giant piece of rubber mat which trapped water. So I started poking more around. Motor mount and transom are soft too. So I did some more research and posted my first question on here.
I read Frisco's entire short and long version thread as well as a few other well documented rebuilds and decided to dive in…