Joined

Jul 4, 2007
Messages

634
Here is a recent Texas Parks and Wildlife Department video on this vessel. This is an expertly produced video.
http://www.youtube.com/watch?v=Q97IAUHICjo&playnext_from=TL&videos=5UziQxvIVEY&feature=grec_index
The US can lay claim to thousands of historical ships. One of these vessels which I'm familiar with was taken out of service in 1995. By that time she had sailed under three different names and was the oldest active ship in the US Merchant Marine. A few years later, in 2007, she embarked on her fourth and final career.
Her keel was laid in 1944 and she was launched as the USS Queens. She served in the Pacific fleet during WW-II and was at Iwo Jima. She carried fresh troops into battle and brought back the wounded. After the war she was mothballed, but not for long.
She was purchased in 1947 and converted to a passenger-cargo liner. Renamed the SS Excambion, she was one of the "Four Aces" that ran between the east coast of the US and the ports in the Mediterranean. These were here golden years. When airline service between the US and Europe became a regular and affordable commodity, the passenger liners were no longer profitable. So, in 1959 she was set aside once again.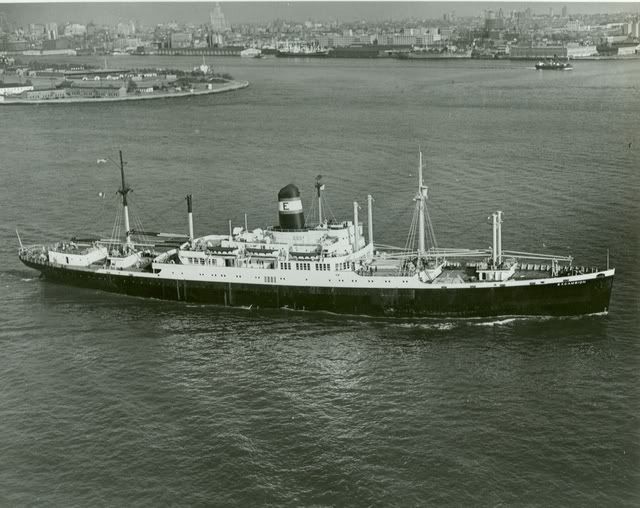 In 1965 she was acquired by the US Maritime Administration. She was renamed the "Texas Clipper" and was docked in Galveston, Texas for the next 30 years. She was the training ship for Texas Maritime Academy and home to thousands of cadets. At that time, Texas Maritime academy was also known as "Moody College of Marine Sciences and Maritime Resources", but was later renamed to Texas A&M University at Galveston (or TAMUG).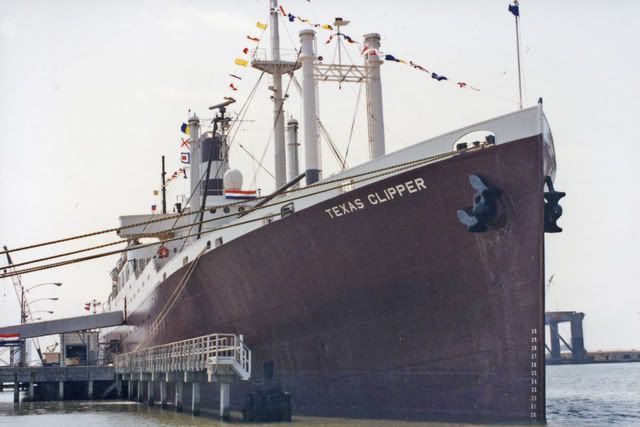 1973 was the first time I saw her. With a suitcase of full of clothes I moved aboard and took up residence for the next four years. In those days she was our dormitory, mess hall, recreation center and home. We attended regular college classes during the winter months in a nearby classroom building. But during the summer months she slipped her moorings and we practiced our seamanship (such as it was). The engine room was my home. (Yours truly somewhere along the bottom row)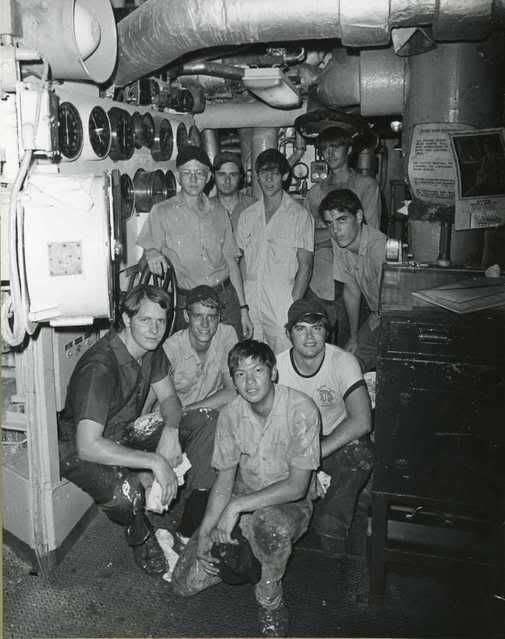 In 1995 she ended her career as a training ship. Soon afterward she entered the "Ships To Reef" program of the Texas Parks and Wildlife Department. She was cleaned up and towed 17 miles off of the South Texas Coast. On November 17, 2007, a few valves were opened and she slipped beneath the waves to begin her final career as an artificial reef. The plan was for her to settle on the bottom in an upright position. She was to be an attraction for the local dive industry on South Padre Island as well as a habitat for all sorts of marine life. But that isn't exactly what happened. She started to list to port and went all the way over. She landed in 135 feet of water on her port side.
I was present for her reefing that day, and I'm still not sure that I'm over it. I knew she was going down, but I just didn't expect her to heel over and go down on her port side. She was a glamorous old girl and always appeared majestic when tied up or underway. I guess I expected her to remain that way for the divers who came to see her. Nevertheless, I'm glad that I was a part of her history, but even more importantly, I'm glad she was a part of mine.
Cool Youtube Video History
http://www.youtube.com/watch?v=Y6dQ-bShtTM
(Updated 10-27-09)
Texas Parks And Wildlife Info
http://www.tpwd.state.tx.us/landwater/water/habitats/artificial_reef/texas_clipper.phtml
More Info If You're Interested
http://www.texasclipper.org/
Last edited: