Hello
This is my wellcraft that I picked up at the beginning of the summer. A guy's wife was making him sell it so I got a really good deal on it. It has a 1995 Nissan 40HP OB. It is sitting on a calkins trailer.
When I purchased it I was informed that there was no ID plate on the boat as the boat was reconditioned a few years back. He knew the year the hull was made but no information on the model. The hull and transom are in great condition. The boat did have a VIN that the enviromental police had assigned to the last owner though so I did not have any way verify its model.
I finally found the models available during that year (in my class) airslot and sport. I have searched around and checked pictures and I think its an airslot.
I have since added a bimini top and working on installing a stereo. Looking into get a set of smart tabs for the back also, if I did that I would have to relocate a couple sensors.
Anyways here it is.
thanks for reading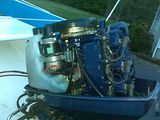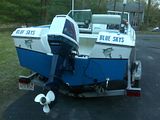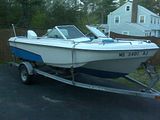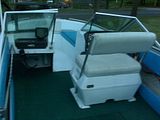 cant see in these pictures but on the other side of the boat is the wellcraft symbol