Boat = 1989 Ranger 375v
Engine = 1989 Mercury 150 Black Max
Steering = 1989 Morse Command (model unknown), dual cable, rack and pinion.
The steering is very stiff which takes two hands to turn with some effort. I tried a cable luber idea found on this forum but couldn't get any transmission fluid to enter or go through the cables. This failed try was at the stern. I'm going to replace the cables with new ones but I have a few questions first.
In the photo below. Parts "A" and "B" doesn't line up with the holes in part "C". It's about 1/8" out of line with the holes. I had to put part "C" on part "A" first and while pushing towards the bow finally get part "C" on part "B".
It's kind of funny the way I explained it. I know the steering cables but don't know what you call part "C".
Anyway but forcing these two cables apart so part "C" will fit means that one of the rods is bent. Also this put an additional bind on the rods going in and out of the tubes. The steering was easier while I had the cables out of the tubes.
Now the question. If I order and replace the cables will I still have the bind problem caused by part "C" ?
Another question. In the photo below by removing the eight bolts should remove both racks. Right?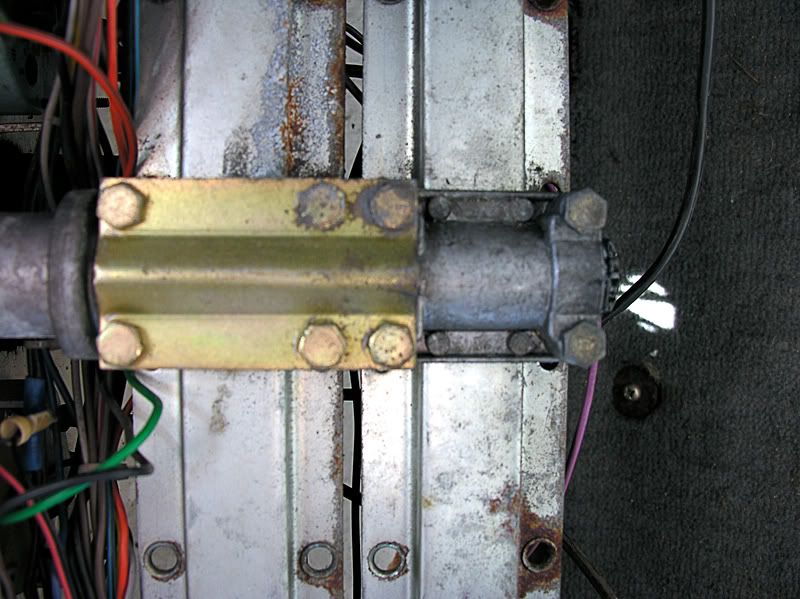 Anyone care to suggest a pair of replacement cables. The old ones are Morse 12 footers with the number E300619.
Thanks for any assistance you can provide.