Hi there. I purchased a 1994 GW Invader Bravo with a dual axle trailer from Craigslist. I'd seen pictures and the price was right so I assumed I'd have to put in a transom, stringers and deck. After picking up the boat I'm a little shocked.
I can see down the engine bilge and it looks great. The ski locker floor feels stiff and the stringers on both sides feel solid, the deck doesn't feel soft but the drivers side has detached from the stringer and I can feel it holding just above the stringer. Anyway, the real problem is under the passenger deck. It looks like the boat hit one of the skids or something, the fiberglass is cracked on a strake on the left front. The crack goes thru completely someone has added what looks like poly filler in an attempt to seal it up. All will need to be sanded down, properly patched filled and gel-coated. Before I get to that though, I want to know more about this engine. The guy I purchased it from first told me the engine was free but when he delivered it he said he tried to turn it over with a ratchet but was only loosening the bolt. I'm not sure what he was doing. When I opened the engine cover I quickly see an empty battery tray, a ground wire, no positive terminal and no starter. I then see what appears to be the starter wire with it's 2 silanoid wires attached. This is routed to where the missing starter should be so I'm assuming that I can jump power to it, and ground and at least test the trim pump. Yep, that worked. But now I need to put in a battery, and a terminal and wire. Here's where I get a little forgetful. I'm pretty sure this wire goes to the starter bank as well and maybe one side of the sylanoid. I can't find an easy schematic and I don't see a remote sylanoid anywhere.
So I'm assuming that if I install a starter, and connect what is already there, I just need a positive battery cable and terminal and then the other end connects to the large connection at the starter. I'm pretty sure this is right but want to make sure as it's been 15 years since I've played with a boat.
Also, I've removed all the belts on the motor and I'd hoped to have all the plugs out to try to see if I could rotate the crank by hand. If anyone has any other tips on this, I'm just trying to figure out if shes really siezed or just hydrolic locked.
Anyway, lots to think about. Getting dark so I guess I'll wait till morning to pull the last couple plugs and see if she will turn over.
That seatback needs recovering by a professional.
The 4.3GS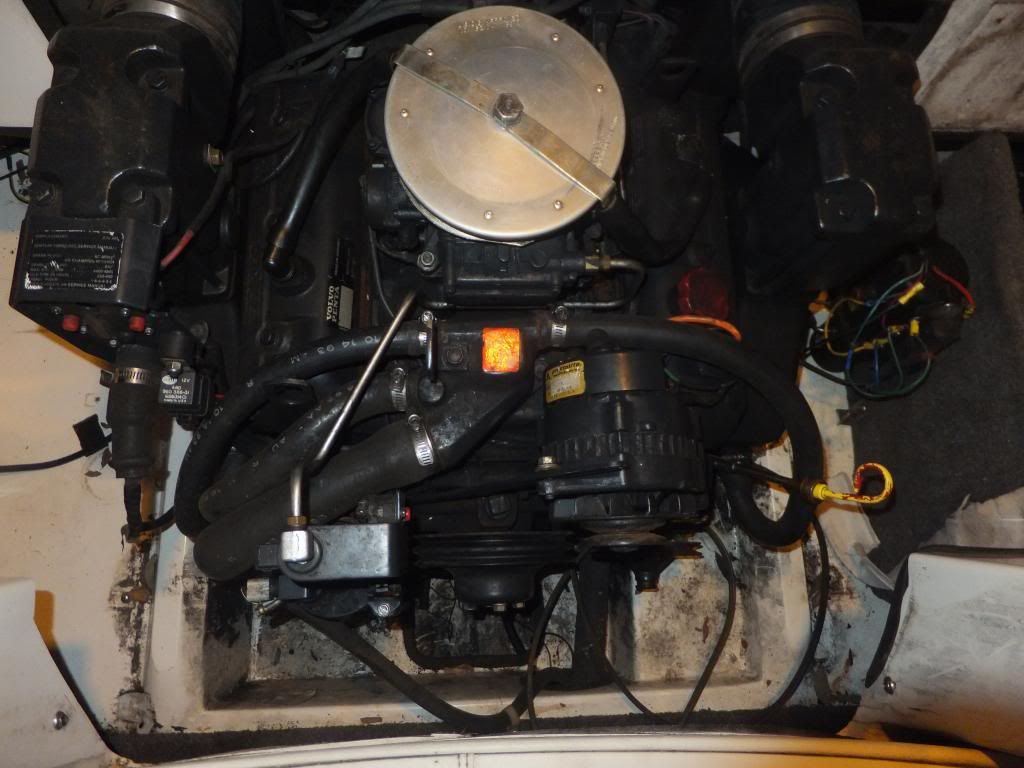 I've never seen a boat with a 2nd cap. Also, in the engine compartment, there is a large preformed piece of fiberglass that goes on both sides of the engine and looks like it will make removing the engine a pain.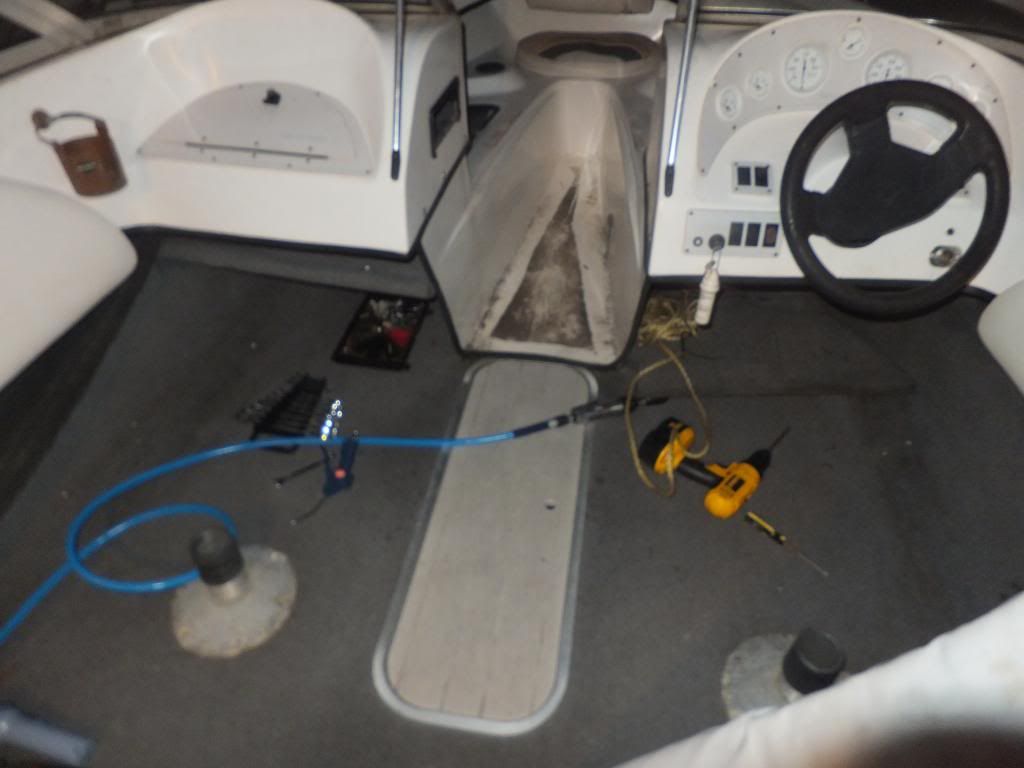 More thoughts, Can anyone tell me about the construction methods of GW Invaders? This boat isn't rotten but the build quality seems "quick". The whole tray in the engine compartment and front seats that are not part of the top cap but a seprate cap put on before the top went on.
Anyone with more info about this boat and it's construction methods please chime in. Trying to look back to the transom is a real tight. The overhang from the cap makes it hard to fit myeslf inside.
So, just to make sure I'm doing this right.
I know I need at least, a starter and battery. I'll pick up a battery tomarrow but I don't want to buy the starter unless the motor isn't siezed. Maybe I could find a local guy with a drop in 4.3. I'm near Jax Florida so go figure.