As one of the 10 iboat forum members that were selected as
field tester for the new Teleflex Xtreme Mechanical Steering system, I thought I would document the process for all here at iboats.
I would like to first of all thank Teleflex for the opportunity and iboats for enabling this to happen. Very cool
The boat is a mostly original 1973 Starcraft Mariner center console with a 1985 90hp V-4 Johnson.
Having never worked on a "modern" steering system this will be a learning experience for me.

Teleflex asked 3 questions, mailing address, length of cable and if there is a tilt helm.

Address - easy
Existing cable had a number on my cable -T 18 ft 0 Q, easy
Tilt - no tilt helm again easy.

I also included additional information; it is a rotary system with a straight bezel and a transom mounted clamp / support tube. I also sent a few pictures so Teleflex could see my existing system. The goal here was not to screw this up on my behalf.

Here are the pics I sent to Teleflex

Bezel and steering wheel, the wheel is very sloppy moves all around at least a 1/2" in any direction.
The rotary steering, (hard pic to take)
Steering cable out of rotary steering, 90 degrees down, behind all the wires and in to the floor, another
90 degree turn
. Looks like a good time to rewire.
Back to the stern, another 90 out of the floor, comes up behind the battery box, runs behind the VRO tank and does a 180 up and out to the splash well. There is a crack in the cable case right next to the VRO fill tube.
Hooks to the support tube and mount and to the motor.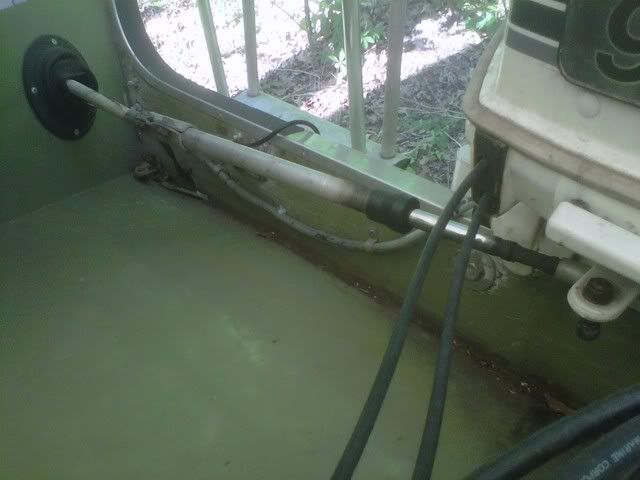 Piece of cake, or so I hope. My biggest concern is pulling the existing cable out and pulling the new one in. There are a lot of wires in the channel under the deck.