************************************************** **********
This is a condensed version of my original thread to provide instructional help to would be builders. If you would like to read the complete thread (and keep up with new additions to the boat) please click the link below to the original thread. Its good reading. Also, all of the photos are not posted here, so if you would like to see them all, click my photobucket link.
Original Thread
http://forums.iboats.com/showthread.php?t=454460
My Complete Photobucket Album
http://s645.photobucket.com/albums/u...a_ray_rebuild/
************************************************** ***********
Well here we go again. This time, the restoration is not voluntary. Let me bring everyone up to speed.
In November of 2010 the wife and I started looking for a bigger boat to handle the whole family. We looked at at lease 20 to 30 boats all over a 100 mile radius here in Texas. One night I was searching on the internet and found a gorgeous Sea Ray in South Carolina. I spent alot of time discussing this boat with the owner and exchanging emails and pictures. He had the deck replaced 2 years ago and had it gelcoated to seal it up, and had the exterior gelcoated also. This thing was awesome so we decided to drive out a pick the boat up.
What I did not know is that the new deck was installed over rotten stringers. When I was cleaning her out after our trip I discovered a soft spot in the far port corner of the deck where previously there were a pack of life jackets were sitting during the lake trial. What had happened is that the rotten stringers we wicking up to the new deck and rotting it out. They did not even seal it with resin or fiberglass and used sheetrock screws to hold it down.
So anyway I paid for a lake ready boat, not a boat that needed $3000 worth of work. Now I must restore it just to be able to recoup some of my investment. I will make it better than new, and hopefully enjoy it for years.
I have to say I am scared to death.
So here are my objectives.
1. Replace all wood that is in the boat.
2. When replacing the deck I want to somehow slant it toward the middle to shed water toward the bilge.
3. All carpet will be gone. It just holds moisture.
4. I would like to gel coat the deck this time, and in white
5. Come up with a drain system for the deck.
I am sure there is more
I will keep you guys updated with pictures and video as I go along just like I did with the Glastron.
Well here she is
Sure looks pretty on the outside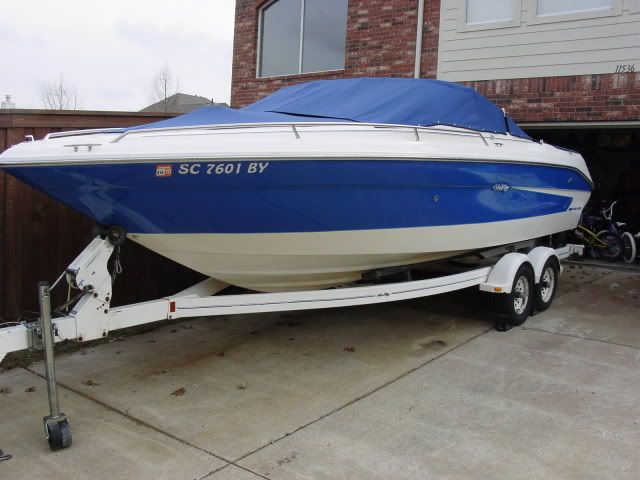 This is what I felt when I stepped on the deck once we got back. It was below freezing when we bought the boat, and the deck was frozen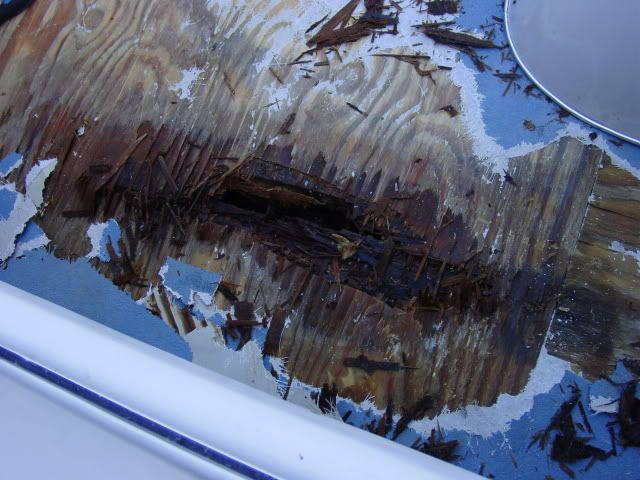 This was after I started cutting. Nothing but rot.