Re: Complete rebuild of 1979 Checkmate Eluder
Here is a photo of the test fitting of the flotation boxes and battery trays. One thing I saw during the demolition phase was that some water had gotten into the flotation boxes from above (there wasn't a top on them), possibly from where the steering cables pass through the splashwell. I'm adding a piece of 1/8 plywood to go over the flotation box, and sloping it downward so any water will run off. This of course will be painted with epoxy on the inside and fiberglassed on the outside to make sure that it's waterproof.
A bit of 20:20 hindsight - with the cap off the boat and no rear seats or fuel tank in the way this location for battery trays looks perfect. HOWEVER, now that the boat is back together I've discovered that it's a b*%#% to reach the battery trays, I wish I'd have left them much further forward.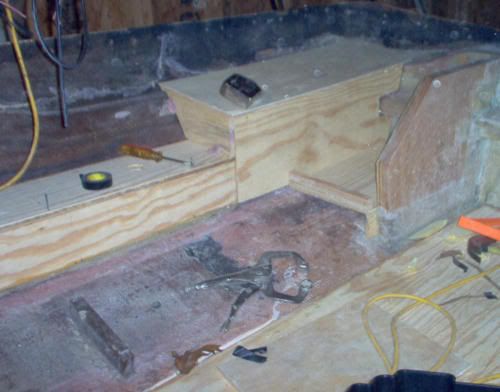 I've often heard that bondo has no place in a boat, and that's mostly true. However, it's slicker than snot on a doorknob for temporarily holding pieces in place - mix it with a little extra hardener to speed curing time and it will cure extra brittle to make it a snap to remove with a wood chisel or screwdriver. A couple blobs of bondo are visible in this photo where I'm working on fitting a battery tray.
After test fitting everything I glassed all the plywood parts for the flotation boxes and battery trays. Instead of doing them one at a time I took a shotgun approach to save time. I put a layer of wax paper on a large piece of plywood, put a sheet of peel ply on that, then the first layer of glass cloth. I arranged the parts on the glass cloth as tightly together as possible, and marked their outlines with a felt marker. Then one at a time I painted epoxy on the bottom of each part, wet out the corresponding area of the glass cloth, pressed the part onto the wet-out cloth, and then painted the edges of each part with epoxy. Then the tops of all the parts were painted with epoxy, the top layer of glass cloth laid over them, and enough extra epoxy painted on to ensure good wet-out. Finally a sheet of peel-ply was put over the top ply of glass. Since the temperature was only around 60 I chose fast epoxy and used a hair dryer to help speed wet-out.
Once they cure, these parts will be tabbed in place using 7725 cloth. By using peel ply they'll be ready to install with no additional sanding.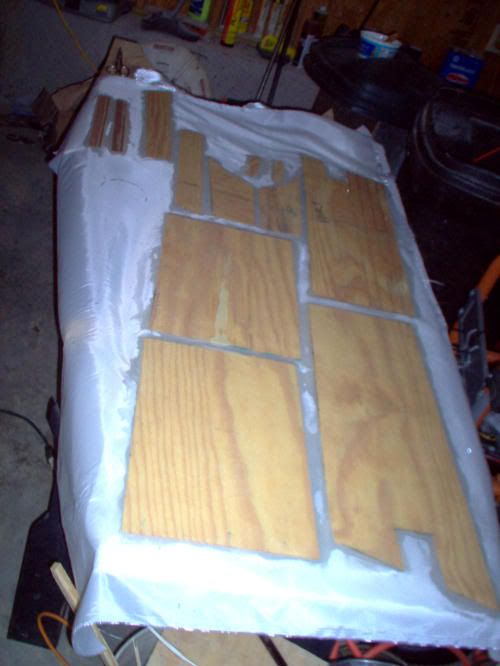 Here's a photo of the battery tray and flotation boxes installed. The gunwale flotation boxes are ready for foam, and the rear ones are waiting for the lids to be tabbed in, then they'll be filled with foam and finally glassed.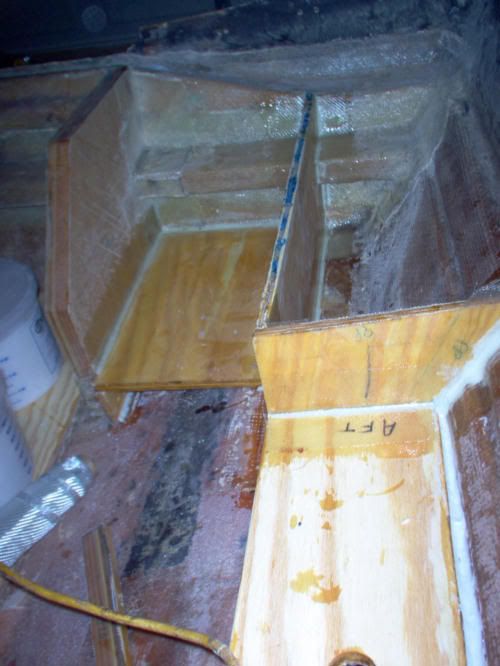 Here the flotation boxes are complete, I had pre-glassed the tops and finished up by tabbing them in place using 7 oz glass tapes about 3 inches wide. The shop lights are keeping the epoxy warm enough to cure, and my circular saw was the closest thing to me when I needed some weight to hold down a corner.