I have had a few people ask me to do a build thread on my I/O pontoon that I built so here it is. (first off I know my spelling and grammar sucks so just look that the pictures if you're a grammar nazi)
First off lets start with the back ground story. When I got married I acquired the pontoon boat very similar to this one but only 16 feet that was complete rotten out and needing everything from the floor up. Took me 2 summers of getting things the way I wanted and realizing how much I like having a pontoon of my own. Well fast forward to last summer and one of my father in-laws brothers decide that he wanted the pontoon left at the cabin for his drunk ***** to use. I end up getting paid for the money I spent on the boat but never the amount of time I put in to it.
I had to "give" the other boat back last August, so I have been searching CL and other spots since then. I found this boat in SE Iowa February 26th and drove down and got it March 1st , left the Minneapolis Mn at 4 A.M to try and make it back before dark. When I was talking to the guy on the phone I asked him what condition the tires and lights are in since I have a 600 mile drive back to Minnesota with it. I got the typical response everything works great. I get down there both tires are flat and dry rotted and the lights don't work. Got the tires aired up shoveled 4" of leaves off the pontoon and head home doing 65mph so I wouldn't blow the tires up.
I introduce you to a 1989 24" Bass Buggy with a 40hp Evinrude.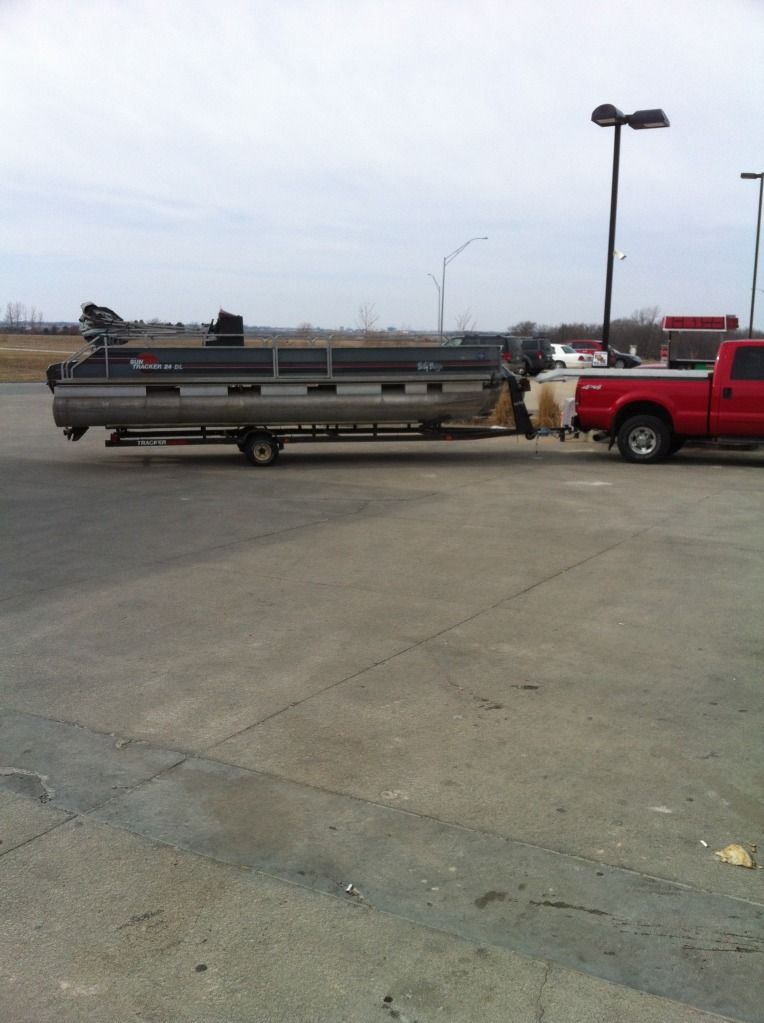 Made it home just before dark.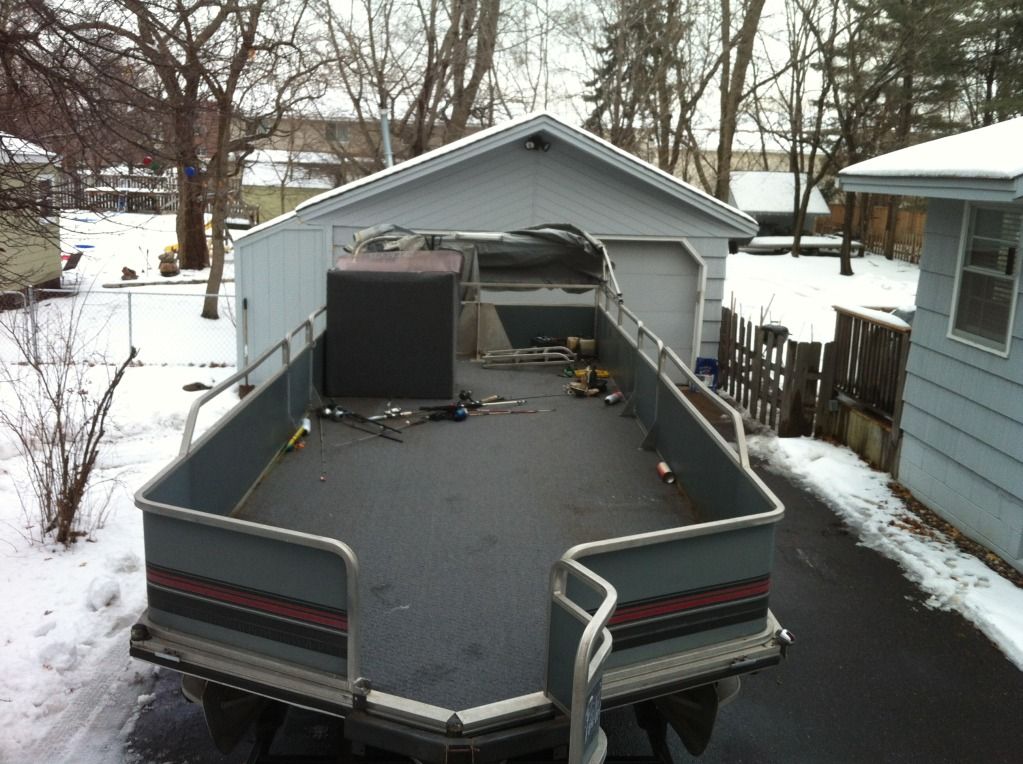 At this point I had a lot of "good" ideas running thru my head. I wanted a big boat that would go fast(30mph) and be quiet when it idles down. All on a budget. (didn't have 10k to spend on a 150hp 4-stroke outboard)
Again CL came into play and search for the next month for an old boat that had the famous GM 4cyl in it. I found this one 2hr away, gave the guy $500 for it.
1972 "something" with a Mercruiser outdrive and GM 140hp 3.0l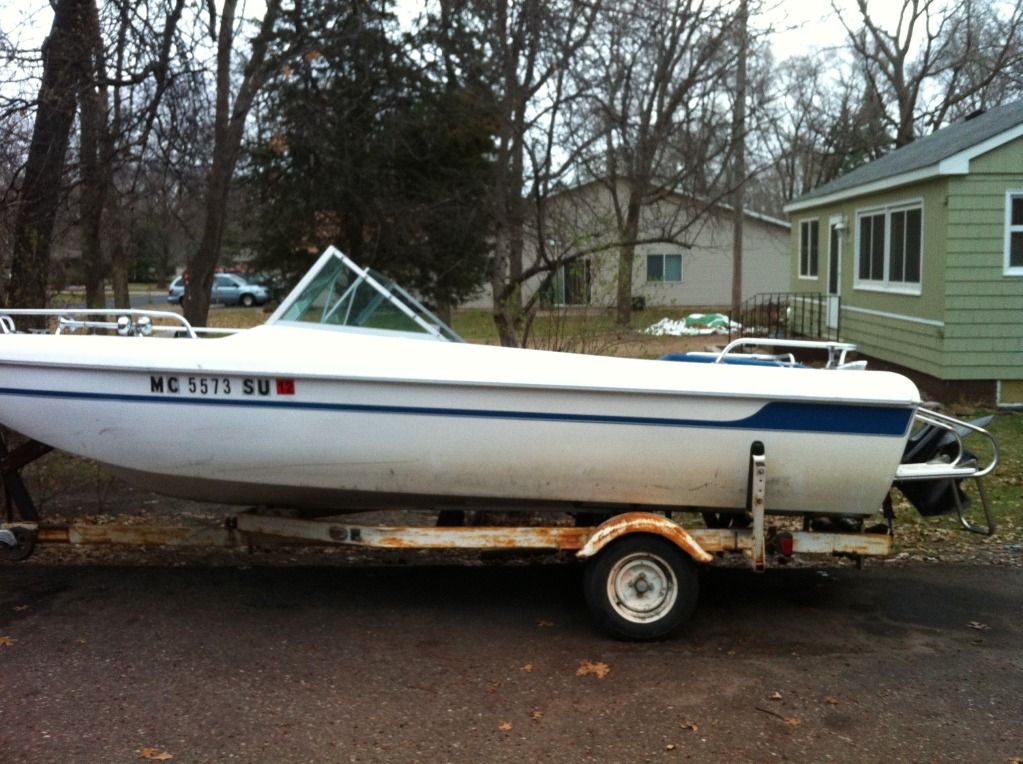 Boat ran really well for being so old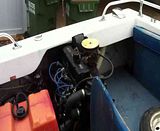 Removing motor from boat the "easy" way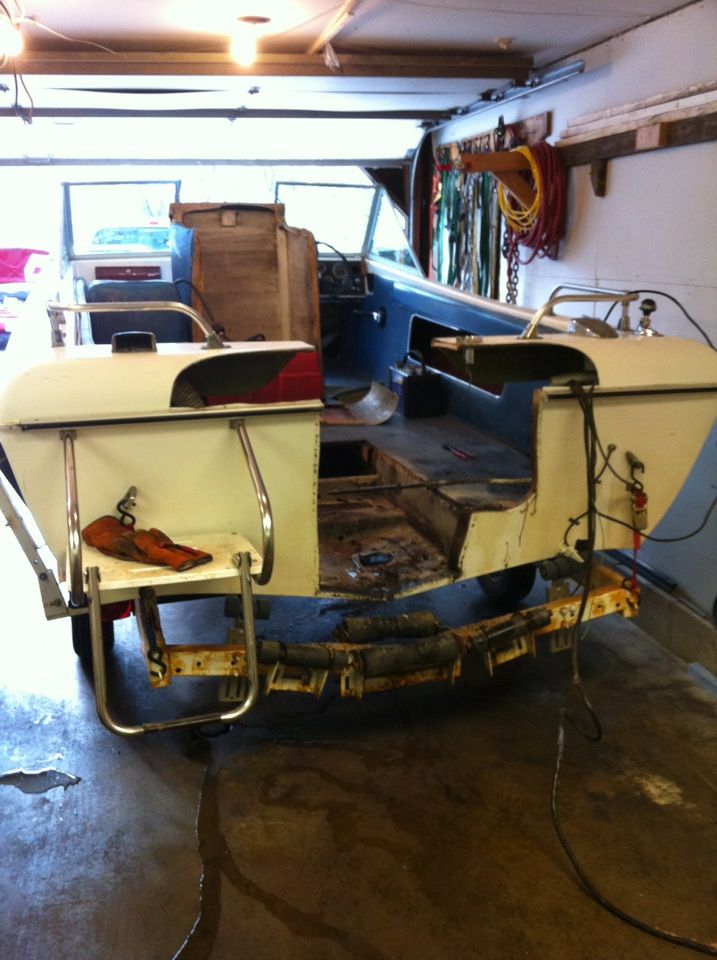 Getting rid of boat that no longer floats