I just started the restoration of my 85 VIP Colt, a 14' 4" tri hull. I bought it in "lake ready" condition for my birthday in August last year. I was content considering I didn't pay much, but I found out it's much worse than I originally thought. Up until yesterday I figured the work I'd need to do was more or less superficial. I learned yesterday that "lake ready" has a broad meaning depending on who you ask.
I had planned on filling holes, painting the top shell, and maybe putting new carpet down. When I pulled up the old carpet I found the main deck and the casting deck were both rotten. When I stepped into the storage hold in the casting deck, the deck actually felt wet. There was so much damage I had to tear it out. It was rotten to the core and holding water.
When I pulled the deck I found the stringers were rotten too. In fact they're so rotten in some places there's nothing left but the fiberglass shell that once coated them. Someone attempted to reinforce the stringers with "sister joists" if you will. They ran what appears to be treated lumber along what was left of the stringers.
One problem with this effort is that the sister stringer under the forward casting deck plugged the hole that was there to allow water to drain back to the bilge. That entire compartment was full of stagnant water which is what was causing the deck to hold water.
Beyond the significant water damage, there was no foam or flotation of any sort under the deck. One good stump (very common if I bring this home to Louisiana) and I'm sunk, literally.
So, my efforts have now greatly expanded. I rolled the boat into the garage so I can give up sleep and still work on it. The deck is gone and waste management was magnanimous enough to pick it all up this morning. I began scraping off the old glue and the old carpet from the fiberglass just so there won't be anything below to rot or hold water anymore. I'll have the fiberglass pretty much clean by tonight.
Here's where I start needing the collective genius of all you guys out there. Once I have the hull clean and I'm convinced there are not holes or fiberglass to repair, I need to know a few things to get started.
1. What do I do about replacing or reinforcing the stringers? Do I need to rip everything out and lay new ones and resin/glass them? Do I leave the treated lumber in there and let them stay "reinforced?" What's the proper way to handle rotted stringers like this?
2. The deck was screwed down into the outer stringers with wood screws so now the resin and water seal is compromised. Are they too compromised? Can I seal over them and be ok? Do I need to replace them too?
Any help is greatly appreciated. Thanks in advance!!
Some Pics...
Here she is as she first sat:
Some of the wood rot:
Rotted casting deck: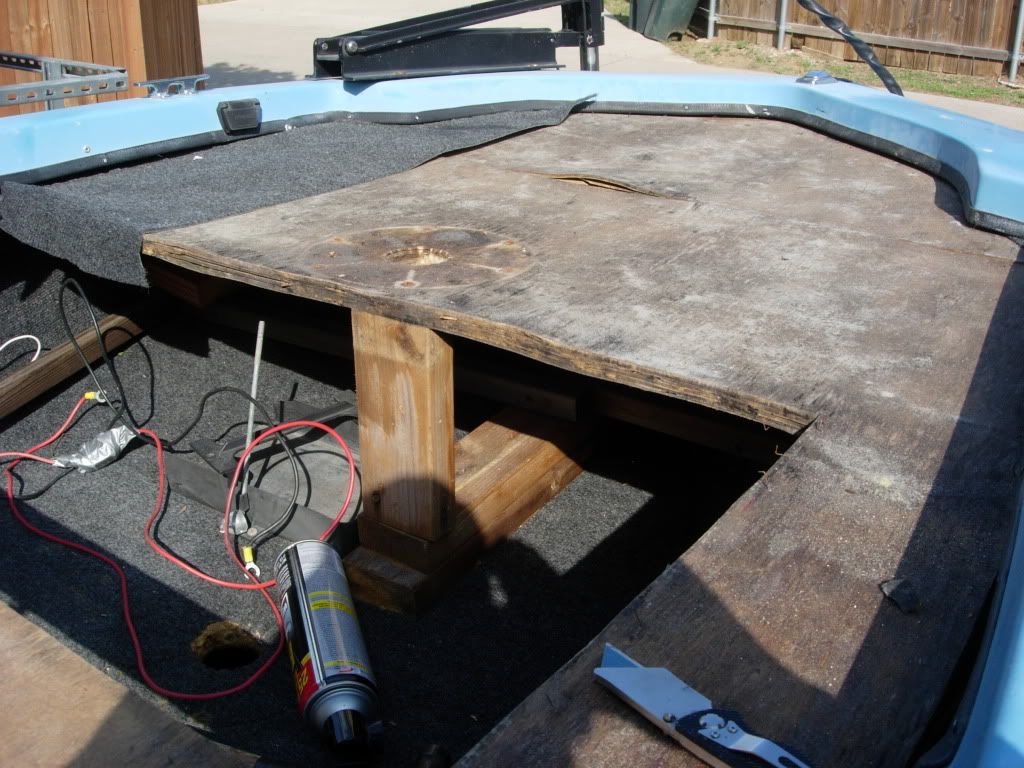 Rotted deck:
And the rotted stringers: