Hello all you Starcraft resto's boys. I bought this 3 years ago and had no idea these boats had such a fan club. I joined iboats to buy parts and started reading about some Evinrude repairs. It has a '74 70 HP. Then I stumbled on the restoration forum and have been doing a lot of reading. So much good info here such as JB weld, 3M 5200, epoxy for plywood, ZC primer, Pettit Easypoxy topside paint, etc. I surely would not be contemplating a lot of the work without the direction you all have provided. The floor seems good but it has carpet and I want to change to vinyl. PO told me he replaced it with 1/2 inch CDX (not marine). I'm worried it won't last.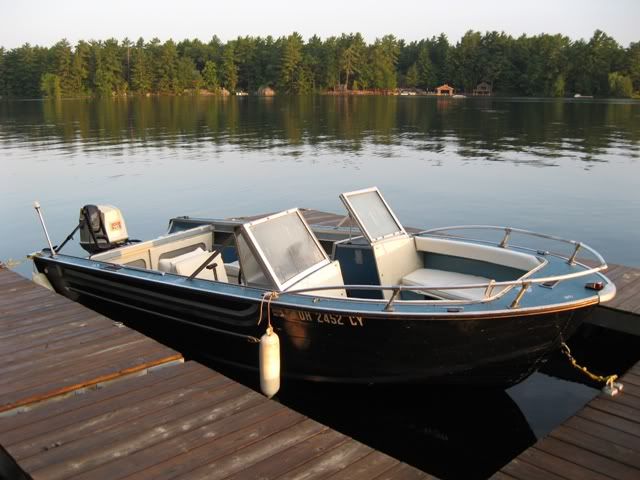 The hull is hideous. I don't have good pics of it since I didn't have a resto in mind until now. I am currently just planning to paint the hull by hanging it. I have a 24 x 32 pole barn. After I brought it home, I could see the "ghost" of a "For Sale" painted on the side. There is a lot of paint failing and the original white is showing through. No leaks however but I did add a bilge since I dock it for a week at a time.
So far I have only added a trolling motor bracket and build new gunnale pads for the bow, replaced various pop rivets. You can see a lot of the topside flaking off the gunnale back to the light blue. Other work has involved the trailer (rollers, bunks, winch and paint)
Again, I only have some trip pictures until I get the tarp off and start tearing into it. The lounge seats are not as nice as a pedestal IMO but kids like them.
Looking at the transom today, I found a soft spot under the corner cap although the PO told me he had it replaced in the 6 years he owned it. Maybe its just that one corner.......
So, while still planning my work, can anyone link me to some good threads on transom replacement? I have read so many and some threads have dozens of pages....Looks like I would have to peel up some of the gunnale tops. Correct? Thanks in advance.
WD